Eltham Toy Library
We are currently operating a Click & Collect service due to Covid-19 restrictions. To borrow, members can login to select toys using our online catalogue, and make an appointment to collect booked toys. To request your member login details please email enquiries@elthamtoylibrary.org.au
Appointments will be available on Sundays 3:45-4:15pm, Tuesdays 10:15-11:15am and Thursdays 7:15-7:45pm.
Members can borrow up to 3 toys per child for 2 weeks. Please remember to clean toys thoroughly before returning. No appointment is necessary if returning toys without borrowing - simply come along during one of the session times to return.
When returning or borrowing toys, please check in using our QR code, wear a mask and observe social distancing requirements.
We are still welcoming help from members at our Click & Collect sessions, however children are unfortunately not able to attend with you.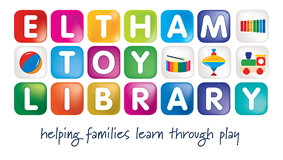 Opening hours:
Sunday 3:30pm - 4:30pm
Tuesday 10:00am - 11:30am
Thursday 7:00pm - 8:00pm
(Please note, due to Covid restrictions, our opening hours for Click and Collect are currently Sundays 3:45-4:15pm, Tuesdays 10:15-11:15am and Thursdays 7:15-7:45pm)